Chef Services
• In-home cooking
• Dinner Parties & Cocktail Parties
• Sample Menus for 2020
There's a Chef in Your Freezer
• Find out about the cookbook
• Read the cookbook
• Order a copy from Amazon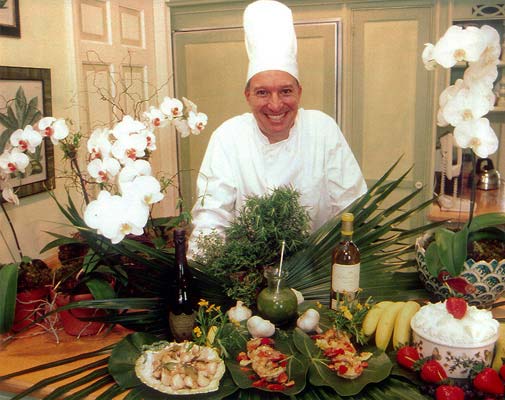 Chef Richard Azzolini has recently arrived in the San Francisco Bay Area from Manhattan and East Hampton. He is available to help you with your cooking needs.
What Chef Azzolini offers:
In-home cooking.
Let me be your private chef for the day. After consulting with you about your culinary preferences, I will custom-design menus that reflect your personal tastes.
I can leave a week's worth of meals or a feast ready to serve for your
dinner party.
With my depth of experience I will be able to provide a wide variety of delicious food choices. I am equally skilled at preparing menus with meat and fish as I am with all vegetarian fare. Maximizing the flavors while creating the most healthful food inspires my cooking energies. With meticulous attention to detail and preparation, I am a consummate professional.
Let Chef Azzolini take care of it all:
Menu Planning
Shopping
Food Preparation in your home
Cleanup
Packaging the meals with instructions
I am a classically trained chef, having studied and worked in Europe, Asia, and America. My food reflects the influences of all three contintents. I have thirty years of experience in preparing gourmet food. My cookbook, There's a Chef in Your Freezer, was published in 2001. Cooking isn't just a job for me—it's a passion. I'm the chef who wakes up at 3am thinking of new fillings for my handmade ravioli. I agree with the philosophy that most of the 'cooking' takes place on the farm. I seek out the very best ingredients for my recipes. Mindful shopping is as important as the cooking.
Since every client has different needs, my fee is set once we work out a plan that suits yours.
Dinner Parties and Cocktail Parties
I offer two levels of service:
I will prepare all the food, leaving you directions on how to heat and serve. I will come to your home, do all the food preparation, clean up, and leave you with a meal ready to serve.
A more full services operation: I will come to your home and orchestrate all the food and service requirements for your party. I will do as much or as little as you require and desire. I pride myself in working closely with my clients to insure a fantastic result.
Price is based on level of service and menu chosen.
Cooking classes
Cooking classes can be custom designed to reflect your culinary interests. Classes can be from the basics of cooking to intricate culinary masterpieces. I will provide well written printed recipes for all students. I always recommend doubling the recipes so everyone can take home lots of leftovers.
I have a passion for teaching and welcome lots of questions and discussion in my classes. Tell me your culinary dreams and I will help make them a reality.
Have you considered having a cooking class dinner party? Get together with a group of friends and cook up a storm.
Suggested ideas for cooking class topics.
Price is based on class content desired.
Hors D'oeuvres
Chicken yakitori skewers
Small baked potatoes with mushroom truffle-oil filling
Endive leaves stuffed with gorgonzola, caramelized apple, and toasted walnuts
Parmesan toasts with:
• Caramelized onion balsamic marmalade
• Toasted pine nut white bean spread
• Red pepper mousse
• Basil garlic goat cheese spread
• Artichoke garlic mousse
Orange tomato basil soup shots
Gazpacho soup shots
Asparagus wrapped with prosciutto
Sweet ginger shrimp on a skewer
Cherry tomatoes stuffed with curried lobster
Herb wine poached shrimp with tomato horseradish sauce
Ginger-soy avocado dip with Terra Chips
Cucumber cups with caponata
Teriyaki water chestnuts wrapped in crisp bacon
Mango black bean salsa with blue corn chips
Parmesan parsley garlic baked clams
Smoked salmon mousse cucumber rolls
Zucchini cups with red pepper mousse
Parmesan puff pastry cheese straws
Curried scallops with mango ginger chutney
Chicken liver mousse with cognac and toasted almond
Petit Croque Monsieur
Spicy raw tuna cucumber rolls
White truffle potato phylo pillows
Crab cakes with lime-poblano aioli
Pistachio orange olive savory biscotti
Mushrooms stuffed with shrimp, with a ginger soy glaze
Fava bean Pecorino crostini
Lemon grass soy beef rolls with scallions,
red pepper, and sweet ginger
Potato pancakes with crème fraîche and caviar
Soups
Orange gazpacho with avocado and basil oil
Lobster and sweet corn chowder
Tomato basil soup with shrimp
California won ton in lemon grass broth
Mussel and leek bisque
Fresh pea with basil cream
Real New England clam chowder (like mama used to make!)
Kabocha squash with sweet ginger and toasted coconut
Tomato strawberry balsamic
Salads
Watermelon. arugula, and baked herb-crusted goat cheese / balsamic vinaigrette
Lobster, papaya, avocado, and oak leaf lettuce with mango-ginger vinaigrette
Tuscan beans with garlic shrimp and toasted pine nuts
Curried chicken and lobster / fresh apricots, golden raisins, and mango dressing
Ripe tomato and buffalo mozzarella with basil-tomato sorbet drizzled with Tuscan estate extra virgin olive oil and aged balsamic vinegar
Lobster and couscous salad
Ginger noodle salad
Thai Papaya Shrimp Salad
White and green bean salad with white truffle oil
Salad Niçoise with grilled lemon-thyme tuna, haricots verts, oven dried tomato, herb infused potatoes, anchovy-stuffed eggs, and Italian parsley-roasted garlic dressing
Black and white sesame seed avocado with ginger-cilantro dressing
Spicy noodle Salad with Peanut Dressing
Mediterranean Antipasti
Verdure Pinzimoni--Italian Crudités with Olive Oil Dip
Peppers braised in balsamic vinegar
Baked tomato and zucchini ring
Parmesan Reggiano shards
Ratatouille
Oven dried plum tomatoes with basil-roasted garlic extra virgin olive oil dressing
Warm chick pea salad with saffron
Grilled portobello mushrooms with toasted pinenuts
Oven roasted peppers with anchovies and capers
Marinated olives with lemon and orange rind
Grilled asparagus with parmesan
Shrimp, mussel, and clam salad
Caramelized peaches with prosciutto
French lentils with baked goat cheese
Bouillabaise of fennel
Tuscan beans with white truffle oil
Caponata
Parmesan-parsley baked clams
Pasta and Rice dishes
Handmade pasta noodles and wilted spinach with roasted garlic pesto sauce
Angel hair pasta with clams and mussels
Seafood Lasagna
Penne with fresh tomato orange sauce
Swordfish Dumplings with Chinese Salsa
Lobster ravioli with roasted tomato sauce
Lobster risotto
Ravioli with pumpkin and pine nuts, with a sage brown butter sauce
Summer vegetable risotto
Creamy polenta with mascarpone and gorgonzola
Ricotta gnocchi with sage brown butter and roasted pepper
Vegetable dishes
Swiss chard with pine nuts and Parmesan
Spinach and banana saute
Pumpkin gratin with pistachios
Penne with fresh tomato orange sauce
Crispy herb infused wild mushrooms
Butter infused corn with green cilantro and poblano peppers
Crispy potato and parsnip cakes
Artichoke hearts tossed with lemon infused olive oil
Beets with tropical flavors
New potatoes with fresh greens
Asparagus with crispy Parmesan chips
Pea shoots, green peas and crisp shallots in coconut milk
Eggplant with sweet miso glaze
Tomato sorbet with basil essence
Roasted shiitake mushrooms with onions and basil
Morel mushrooms braised in cream
Zucchini 'spaghetti' with creamy lemon chive dressing
Sweet peas with escarole, onions and mint
Parsnip mushroom pancakes
Spiced gingered Asian slaw
Seafood
Grilled tuna with ginger, mango, and avocado salsa
Stripped bass in orange marinade
Lobster in sweet ginger sauce
Homard à l'américaine
Bouillabaise
Lobster poached in lemon grass-ginger broth
Polenta-crusted sea bass with corn and tomatillo salsa
Salmon with lemon grass sesame marinade
Rosemary tuna drizzled with Tuscan estate extra virgin olive oil and aged balsamic vinegar
Whole black sea bass baked in a rosemary thyme salt crust
Shrimp with tomato, feta cheese and black olives
Miso glazed black cod
Salmon with garlic cream and tomato butter
Chicken, Duck, Squab, Quail, and Rabbit
Tangy Chicken with Shiitake Crust
Chicken with Vichyssoise Sauce
Chicken curry with peaches and coconut milk
Chicken in red pepper sack
Chicken polenta pot pie with summer vegetables
Chicken with 40 cloves of garlic
Chinese chicken with orange sauce
Chicken Pistachio Korma with Chana dal
Roasted Duck à la Julia Child with fresh peach-apricot sauce
Caramel orange ginger duck
Grilled herb-marinated squab and quail
Moroccan chicken phyllo pie (basteeya)
Pollo en salsa de Cacahuate (chicken in peanut sauce)
Rabbit with tarragon and mustard sauce
Chicken Pistachio Korma
Chicken Mulligatawney
Lemon pepper duck with sherry wine vinegar sauce
Chicken stuffed with goat cheese
Grilled chicken with yogurt and Asian spices
Veal, Beef, Lamb, and Pork
Parmesan crusted veal chop with tomato arugula salad
Balsamic basil and veal scallops
Veal à la Marsala with wild mushrooms
Orange-fennel osso bucco
Beef on a string with basil vinaigrette
Beef satay with peanut dipping sauce
Grilled teriyaki filet of beef with sweet ginger, au jus
Spareribs with Chinese barbeque sauce
Grilled loin of pork stuffed with Parma ham
Pork loin braised in milk with garlic and thyme
Coconut curry lamb stew
Cashew-coconut meatballs in
tamarind tomato sauce Moussaka
Grilled rosemary-thyme rack of lamb
Ginger-soy marinated butterflied leg of lamb
Lamb tagine with cous cous
Rogan Josh lamb (curry)
Seven Hour leg of lamb
Desserts
Stained glass tart with passion fruit glaze,
served with vanilla bean ice cream
Crema al la Marsala
Cold kiwi soup with melon sorbet
Pears Vesuvius
Caramel pears with ginger
Apricot almond upside down cake with vanilla bean cream
Almond cherry financiers
Cornmeal almond torta with fresh berries
Reine de Saba (very rich chocolate gateau)
Chocolate truffle tart
Rouge berry fruit soup with warm meringue crust
Warm Chocolate Cake
Crème brulée napoleon
Couscous with orange and pistachios
Blueberry and peach cobbler with vanilla bean ice cream
Caramelized peach mango cake with passion fruit ice cream
Fig and pinenut calafoutis
Grilled summer fruit
Lemon curd tart with fresh berries
Strawberries macerated in aged balsamic vinegar,
with polenta cookies
Caramelized banana ice cream Sundae, with warm caramel walnuts and bittersweet chocolate sauce
Meringue crusted stone fruit soup with vanilla bean essence
Hand dipped chocolate truffles
Marrons glacés cheese cake
Frozen hot chocolate
Cherry sweet sherry trifle
Thai rice pudding with coconut and lemon grass
Brioche chocolate walnut bread pudding
Warm chocolate soufflé
Orange curd layer pudding