Chef Services
• In-home cooking
• Dinner Parties & Cocktail Parties
• Sample Menus for 2020
There's a Chef in Your Freezer
• Find out about the cookbook
• Read the cookbook
• Order a copy from Amazon
Richard Azzolini Biography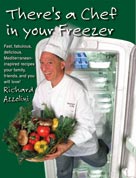 Chef Azzolini has cooked professionally for 30 years. Born with a wooden spoon in his hand into a family of passionate cooks, Chef Az trained and has worked in America, Europe, and Asia. He did his formal training at the Cordon Bleu School, and an apprenticeship at Patisserie Dauvergne in Reims, France. Azzolini ran an executive dining room for eighteen years, and now offers chef services, writes, and teaches. Chef Az loves cooking and eating good food.
Richard Azzolini grew up in the kitchens of his two grandmothers, one from northern Italy, the other from Sicily. The smells and flavors of their kitchens left their distinctive imprints at an early age.
Grandma Azzolini from Modena always had a pot of brodo simmering, waiting for her handmade tortellini. She cooked with sweet butter; sizzling veal scallops with sage would perfume the air. He knew the sweet taste of balsamic vinegar before it became in vogue.
Grandma Bavarro's stove always had a pot of aromatic Sicilian tomato sauce bubbling on a back burner. It was full of tender meatballs, her hand-rolled brescaola, and sweet sausages. In the fall the fruits of Grandpa Bavarro's mushroom gathering would be sauteed with garlic in olive oil.
Richard's mother was an able pupil of both women. Her kitchen combined the best of both with her own flair for new ideas. She was always ready to try something new, such as an "alligator pear" (avocado) or calves brains. Richard had a keen interest in cooking from an early age and was always happy to assist. After his mother's untimely death when he was thirteen, Richard took over the responsibilities for cooking for his family.
His first job at age fifteen was at Ben and Sol's Kosher Deli. Hired as a bus boy, he quickly became the chef's assistant. He learned to prepare the "Jewish soul food" house specialties, including his favorite--hand made potato-onion knishes. After high school he worked in various restaurant kitchens while attending college. All his life, family and friends had suggested food as a career, and he had resisted the idea. During his final year at San Francisco State University, he made the momentous decision to become a professional chef. He left school to become an apprentice fish butcher at San Francisco's premier fish emporium, Swan Oyster Depot. There he honed his knife and fish cookery skills. He left a journeyman butcher, and headed for eighteen months of study and work in Europe.
First stop was a three month intensive course in classic French cooking at the London Cordon Bleu cooking school. Then on to Paris, where he found a room with a group of French artists and writers. Every morning, Azzolini would spend haunting the markets, boulangeries, and patisseries, absorbing the ideas and sampling the flavors. Returning home he would prepare lavish meals for the group and their guests, who were only too happy to critique the food.
Next came a four month apprenticeship at Patisserie Dauvergne in Reims, France. Alice Medrich, author of Cocolat, was very kind to arrange this stage with Monsieur Dauvergne. A beautiful shop with an affluent clientele, Dauvergne produced over 200 different items. Richard became an assistant to whoever needed help among the large staff. Here the mystery of meringue, tempered chocolate, and crème anglaise were revealed and mastered.
Returning to Paris, Azzolini was introduced to Doria Fournier. After cooking several dinner parties for her in Paris, she hired him as her private chef for the summer season on her family's island, Porquerolles, off the coast of Toulon in the south of France. He spent five months cooking for her and the many guests who came to visit. A writer for Interview magazine was one of the guests that summer, and wrote that he was surprised to find an American chef in the kitchen. Azzolini refers to this stint as his "finishing school." Although Mlle. Fournier offered him a permanent position, Italy awaited. Leaving the island, he went on to travel three months in Italy, criss-crossing from North to South, sampling the cuisines along the way.
Upon returning to New York, he was hired by K-Line America, the cargo vessel arm of the Japanese company Kawasaki. Azzolini started their executive dining room on the 99th floor of the World Trade Center. For seventeen years, Azzolini served as executive chef for K-Line's corporate dining rooms. He continued to study, returning to France and Italy, also taking courses at the New York Restaurant School, the California Culinary Academy, and the Thai food course at the Oriental Hotel in Bangkok. He worked as a guest chef on the luxury cruise ship, the Song of Flower.
As a volunteer, Azzolini taught a cooking class for four years for the clients of New York's GMHC, a support organization for people with AIDS.
Richard Azzolini was interviewed by June Labelle on her "Kitchen Classics" show on WQXR radio. Several of his cooking classes at GMHC were videotaped and shown on cable TV in Manhattan.
In 1997 Azzolini left K-Line to become a private chef. Stints in New York, Palm Beach, London, and East Hampton followed. In 2001, Azzolini published There's a Chef in Your Freezer. Richard Azzolini has recently arrived in San Francisco, where he is making his chef services and cooking classes available.